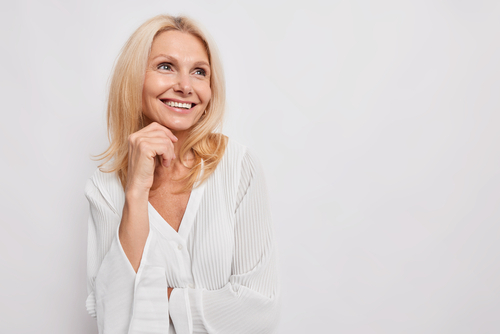 The body's normal aging process tends to cause slight changes in its appearance over time. As years roll on, you may start to notice your face doesn't look as it once did. 
Deep lines may form on your forehead and next to your mouth, and your once prominent cheekbones may appear hollow. Luckily, dermal fillers can be used to restore the shape in these and other areas.
Keep reading to learn how dermal fillers can make you look younger!
What Are Dermal Fillers?
Dermal fillers are injections of a natural or synthetic compound that replace hyaluronic acid, which is the natural plumping agent in your skin. Typically, dermal fillers are safe and compatible with most skin types.
With the help of dermal fillers, you can look younger and more rejuvenated.
How Do Dermal Fillers Work?
A professional injects dermal fillers into your face's target areas. The filler plumps your skin from within and refills lost proteins and fats to smooth out wrinkles and lines and volumize hollow areas.
Dermal fillers treat static lines, which are still visible even when your face is relaxed and expressionless. The FDA has approved fillers for various concerns, including:
Cheek enhancement
Vertical lip lines
Pronounced smile lines
Under-eye fine lines
Types of Fillers
There are different types of fillers that can accomplish various goals. Dr. Jonathan C. Lowry, our board-certified oculofacial plastic and reconstructive specialist, will help you determine which filler will best achieve your desired result.
Hyaluronic Acid Dermal Fillers
Hyaluronic acid is naturally produced in your body. The role of hyaluronic acid is to provide flexibility and elasticity, increase moisture, and retain collagen.
In other words, hyaluronic acid is a sugar molecule that attracts and binds water molecules, thus making your skin look healthy, hydrated, and plump. Hyaluronic acid dermal fillers work to replace lost facial volume and fill out skin folds and wrinkles for a more youthful appearance.
Some of the best FDA-approved hyaluronic acid fillers are Restylane and Juvederm.
Restylane
Restylane is a hyaluronic acid filler of medium thickness. It's a superficial dermal filler that helps to reduce moderate to severe wrinkles and lines.
It's also used to treat dark circles under the eyes and augment lips.
Juvederm Injectable Gel
Juvederm Injectable Gel is also a popular hyaluronic acid gel. It's supplied in several densities, with each one meant for a particular treatment area.
Dr. Lowry can help you choose to combine densities to help you attain your desired results. Juvederm Injectable gel adds more volume to your skin and smooths away facial folds and wrinkles, giving you a healthy, hydrated look in the cheeks, lips and mouth area
Sculptra Aesthetic
The main ingredient in Sculptra Aesthetic is L-poly-lactic acid, a synthetic biocompatible and biodegradable sugar molecule. With Sculptra Aesthetic, you can boost your skin's own natural collagen production.
This process helps replace lost collagen, which is the underlying cause of aging. An increase in collagen production gradually adds volume to your face.
This volume raises the soft tissue and restores facial volume. The treatment suits the lines framing your mouth, deep folds between your mouth and nose, and chin wrinkles.
Achieve a Younger-Looking, Natural Face with Dermal Fillers
At Morganton Eye, the goal of our board-certified facial plastic surgery specialist is to deliver unmatched results using top-of-the-line dermal fillers. Dr. Lowry will examine your face to see where aging is occurring and which fillers can best combat it.
Want to find out what dermal fillers are right for you? Schedule your appointment at Morganton Eye today!