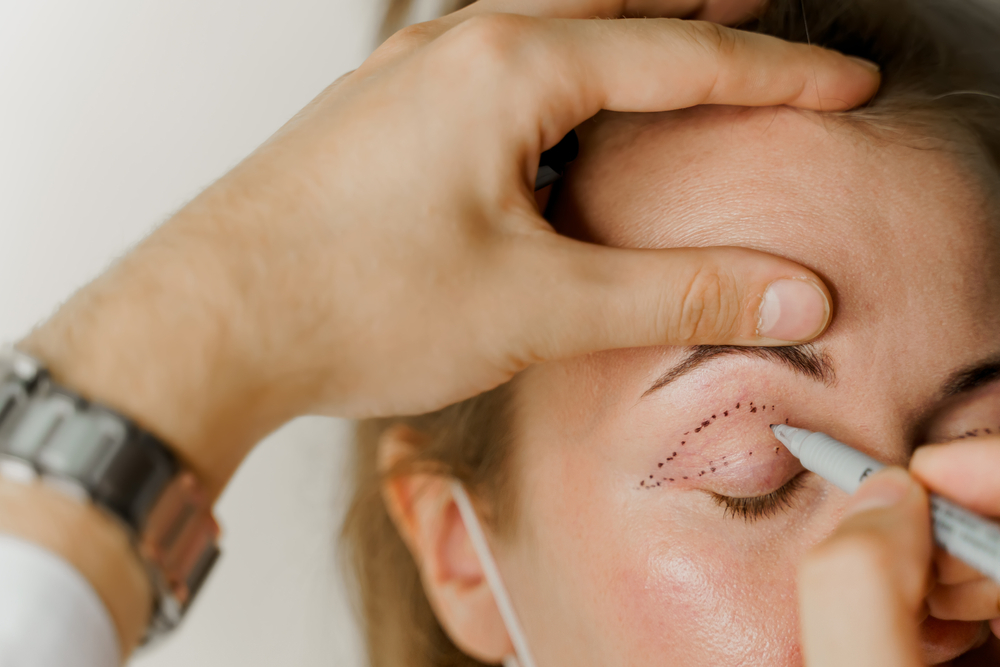 Signs of aging typically start to show up on your face, especially on your eyelids, since they have fragile and delicate skin. If you have noticed that your eyes look more tired even when you're alert or have been told you look exhausted all the time, a blepharoplasty may be able to help. 
A blepharoplasty is a popular cosmetic procedure that can raise droopy eyelids, rejuvenate your appearance, and help you rediscover your youth.
Keep reading to learn more about blepharoplasty and how it can eliminate that tired appearance!
What Causes a Tired, Worn-Out Look?
Dark circles, bags, wrinkles, and drooping tend to appear as you age. Because your eyelids have such thin skin, they're often the first to show signs of aging.
As you grow older, your body produces less collagen, which causes your skin to lose elasticity. Collagen is a naturally occurring protein in your body that keeps your skin looking youthful and plump.
So when it begins to diminish, fatty deposits build up, muscles around your eyes weaken, and your skin wrinkles and droops. The sagging skin creates a heavy, fuller appearance that makes you look older and more tired, even if you feel very alert and energetic.
If you want to look awake and refreshed, a blepharoplasty can provide the perfect solution.
What is a Blepharoplasty?
Also called an eyelid lift or eyelid surgery, a blepharoplasty is a surgical procedure that transforms and rejuvenates eyelids in women and men.
The procedure corrects saggy, droopy eyelids, especially if they're caused by extra fatty tissue deposits, excess skin, or weak muscles.
An under-eye blepharoplasty can correct under-eye bags. An upper eyelid blepharoplasty can tighten your eyelids to fix hooding or sagging.
Without drooping skin and under-eye bags, you'll look awake, energized, and more youthful again. Your eyes will also appear approachable and inviting.
It's crucial to choose an experienced, board-certified surgeon for your blepharoplasty procedure. That way, you'll get the best, most natural-looking results possible.
Types of Blepharoplasty
Blepharoplasty can be done on your upper or lower eyelids or both.
Upper Blepharoplasty
Droopy upper lids can cause you to look angry or exhausted. An upper eyelid blepharoplasty will leave you with tighter lids and brighter, refreshed eyes.
Upper blepharoplasty or upper eyelid surgery can be performed under local anesthesia. During the procedure, the oculoplastic surgeon will make incisions along the natural creases of your eyelids.
So you won't have visible scarring down the road. Your oculoplastic surgeon will then remove the excess skin, causing sagging eyelids.
Your eye doctor may also reposition the muscles in your lids if necessary. Next, they will lift and reattach the remaining skin, leaving you with tighter, more youthful eyelids.
Once done, your oculoplastic surgeon will close all the incisions with tiny, meticulous stitches.
Lower Blepharoplasty
With age, skin in your lower lids can become wrinkled and loose, forming fine lines, puffy under-eye bags, and dark circles under your eyes.
Lower blepharoplasty can be done under local anesthesia. Your oculoplastic surgeon will make an incision just below your lower lash line where it won't leave visible scars. They will then remove excess skin, fat, and even muscle if necessary.
Sometimes, your oculoplastic surgeon may reposition fat to reduce puffiness and fill the hollows beneath your eyes. Other times, the doctor can perform a small fat transfer to restore lost volume and create a more youthful appearance under your eyes.
Finally, your surgeon will tighten and reattach the remaining skin and close the incision.
Look Younger and More Bright-Eyed with Blepharoplasty
If you don't like how your eyes look in the mirror, a blepharoplasty can be what you need to look fresh and awake. At Morganton Eye, our board-certified surgeon will customize your blepharoplasty procedure to match your needs and goals and deliver exceptional, natural-looking results.
Want to look and feel more youthful, fresh, and alert again? Schedule your appointment at Morganton Eye & Surgery Centers in Shelby, NC, today to find out if you're a candidate for blepharoplasty.