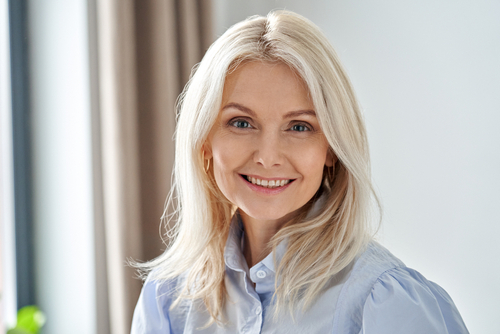 Before cataract surgery, you'll need to choose an artificial intraocular lens, also known as an IOL, to replace your natural cloudy lens. A premium lens implant can be an excellent choice if you wish to reduce or eliminate your need for glasses or contacts. 
With these advanced lenses, you can participate in most everyday activities with reduced dependence on visual aids. Keep reading to learn more about why you should select a premium IOL!
1. Enhanced Vision Quality
Surgery with a premium IOL will help you regain any vision lost to cataracts in no time. Because cataracts can never form again on the artificial IOL, you can look forward to enjoying greater vision clarity and vivid colors for life.
Your restored vision will make any activity much easier, from reading, cooking, and watching your favorite TV shows to hiking, swimming, and golfing.
2. Reduced Dependence on Glasses and Contact Lenses
A monofocal or standard IOL can correct vision at only one distance: either near or far away. So if you choose to have your distance vision corrected, you'll still need glasses or contacts following your cataract procedure for certain activities.
Unlike a monofocal lens, premium IOLs offer a broader range of vision. This is a game-changer if you want greater freedom from prescription lenses after cataract surgery.
Depending on the premium IOL you select, you can significantly reduce or even end the need for glasses or contact lenses. These IOLs are also designed to address common refractive errors, including presbyopia, nearsightedness, and farsightedness at the time of cataract surgery.
This means that with a premium lens, you can go from reading to using your computer to driving, all with reduced reliance on contacts or glasses.
3. Astigmatism Correction
A specially designed premium lens called a toric IOL can correct astigmatism. Astigmatism is also a common refractive error.
It occurs when your cornea has more of an egg shape instead of a round shape. The irregular curvature of the cornea leads to blurry, distorted vision at all distances.
Most premium lenses are available in a toric version. If you select a toric IOL, your cataract surgeon will address astigmatism and cataracts simultaneously.
In that way, you'll be able to achieve the clearest possible vision outcome following cataract surgery.
4. Improved Contrast Sensitivity
Cataracts are notorious for reducing contrast sensitivity. Reduced contrast sensitivity can decrease your quality of life.
It considerably increases the risk of accidents, slips, trips, or falls. At its most basic, contrast sensitivity is the ability to distinguish between two shades, tones, or colors. 
You may find it challenging to drive at night or see the stairs or curbs when you have low contrast sensitivity. Premium IOLs increase contrast sensitivity.
After cataract surgery with a premium lens, you'll feel as though you have a new lease on life. You'll be able to safely drive at night or in rainy or foggy conditions.
Additionally, you'll see steps and curbs clearly, significantly reducing the risk of falls.
5. Offers Multifocal Vision
With a premium lens like a multifocal IOL, you can give yourself the best vision you've ever had. A multifocal IOL is designed with multiple focusing powers, enabling you to see well at all distances: near, far, and everything in the middle.
For example, when driving, you may be able to read your dashboard, see pedestrians crossing, and check the road signs without contact lenses or glasses.
See the World with Brand New Eyes
The experienced doctors at Morganton Eye will recommend surgery if cataract symptoms significantly affect your day-to-day life. By choosing one of the advanced premium IOLs offered at Morganton Eye, you can achieve crisper, clearer vision after cataract surgery.
Are you interested in determining if a premium IOL is right for you? Schedule a cataract evaluation at Morganton Eye Physicians in Shelby, NC, today!