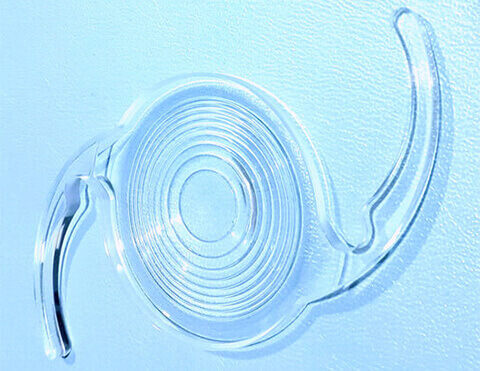 IOLs
A wide range of replacement intraocular lens (IOL) implants are available to cataract patients, each offering different advantages for your unique post-surgery vision. The most effective lens depends on each patient's individual preferences and goals for their vision. The latest Multifocal IOLs and Toric IOLs lenses help eliminate the need for glasses or contacts after cataract surgery, providing convenient, effective results for your specific vision requirements. Because Multifocal and Toric IOLs are considered premium lens implants, insurance does not cover the additional costs of these new technology lenses. However, many patients find the long-term visual and lifestyle benefits associated these premium lens implants are well worth the additional investment.
Traditional Monofocal IOLs
Intraocular lenses (IOLs) are implanted in the eye to replace the natural lens for patients with cataracts (i.e. clouded lens). Until recently, conventional Monofocal IOLs were only lens implants available to correct vision. The Monofocal IOL helps improve distance vision after cataract surgery, but patients still usually need eyeglasses or contact lenses for near vision activities such as reading. That's because traditional Monofocal IOLs can only be set for one optical distance with no ability to accommodate – adjust – vision between near and distance. Usually, a Monofocal IOL is set to provide good distance vision leaving the patient to rely on eyeglasses for near or reading vision.
New LifeStyle Lens Options: See Near, Far or In Between
For many individuals with active lifestyles or reliance on computers, tablets and personal mobile devices, a traditional single focus Monofocal IOL with cataract surgery may not provide the full range of vision needed or desired without the use of eyeglasses or contact lenses.
Today, advancements in new lens technology and designs have produced Multifocal IOLs A Multifocal IOL offers a greater range of vision – near, intermediate and distance – which may be better suited for your unique vision needs. Multifocal IOLs preserve distance vision and correct presbyopia so cataract surgery patients can enjoy clear vision without dependence on glasses.
Toric IOLs are another new technology option for patients with astigmatism. These unique lenses reduce spherical inconsistencies in the eye, provide clearer vision and can greatly reduce dependence on eyeglasses or contact lenses after surgery.
Choosing the Option Best for You
It is critically important for you and your doctor to have an accurate and complete understanding of your current eye health as well as your unique goals for vision after surgery. This will allow you and your doctor to decide what type of surgery and IOL is best for your unique needs. To choose the correct lens for your particular lifestyle and vision needs, your doctor will perform a series of tests to assess your eyes. Your will also be asked to complete a visual assessment questionnaire. Several diagnostic tests are covered by insurance, but other more specialized tests may require an additional fee which is the patient's responsibility. Together, you and your doctor will determine the most appropriate level of testing for your unique vision needs.
Multifocal IOLs
TECNIS® Multifocal IOL
Cataract surgery, which replaces the eye's cloudy lens with an artificial clear intraocular lens or IOL is the most common operation in America. More than half of adults over age 65 have some degree of cataract development. People aged 65 and older are also more likely to be involved in car crashes than people in their 30s, 40s and 50s. Now an innovative night vision-enhancing IOL can help elderly drivers with cataracts avoid accidents.
The Tecnis® IOL was designed to provide cataract surgery patients with high-quality vision comparable to that of young people. Its main concern is improving safety with vision correction. It is meant to improve functional vision – the ability to see objects in varying light conditions – especially at night and twilight and in rain, snow and fog. This means improved night vision and reduction of spherical aberrations, an undesirable scattering of light that is a common side effect of cataract surgery.
TECNIS® Symfony Extended Range IOL
The latest addition to the TECNIS® family of IOLs offers new optical technology for providing an extended range of vision.
Traditional IOL solutions for treating presbyopia include Multifocals and Trifocals, which work on the principle of simultaneous vision by splitting light into multiple distinct foci, and Accommodative IOLs, which change in shape and power when the ciliary muscle contracts.
Traditionally with these technologies, the correction of presbyopia is commonly thought of in terms of the distinct distance for which functional vision is provided.
Toric IOLs
TECNIS® Toric IOL
The TECNIS® Toric lens is a high-quality, sustainable intraocular lens designed for patients who are looking for seamless vision correction. The TECNIS® IOL provides individuals with stunning visual performance in all conditions and low-light situations, such as driving at night, with no glistening effects or visual impairment.
By improving any spherical inconsistencies in the eye, the lens provides astigmatism correction alongside clear, beautiful visual acuity. Rid yourself of the need for glasses and still maintain the clear vision you desire with the TECNIS® IOL.
AcrySof™ IQ Toric IOL
Until recently, patients with astigmatism were forced to rely upon glasses or contact lenses even after their cataract surgery, as the replacement IOL did not correct corneal astigmatism. Now, patients can benefit from the AcrySof IQ Toric IOL, an advanced lens that simultaneously removes any pre-existing astigmatism of up to 3 diopters at the same time that the cloudy lenses is removed.
After implantation of the AcrySof IQ Toric lens, patients can enjoy a higher quality of life as they are able to drive, watch television, play sports and enjoy other activities without the hassle of glasses or contacts. This lens is the only solution available to correct both cataract and astigmatism vision problems. Like the other AcrySof IQ IOLs, the Toric lens blocks ultraviolet light and features blue-light filter technology that protects the retina and ensures brilliant, colorful vision after surgery.
TECNIS® Symfony Toric IOL
The TECNIS® Symfony Toric lens rids the effects of presbyopia and helps to correct astigmatism, so patients can be empowered to see clearly across a full range of vision with no disparity between near and far.
By increasing the depth of field, the TECNIS® Symfony Toric IOL allows patients to experience visual acuity and uninterrupted vision at any distance. This means that you can drive, play golf, read the newspaper, or use a computer and experience consistent clear vision throughout. The state-of-the-art technology of the TECNIS® Symfony lens provides high image contrast and long-term success in vision correction.
Cost and Coverage
Premium Lens Implants, such as Multifocal and Toric IOLs, are offered as optional enhancement to traditional cataract surgery. As such, these IOLs, and associated specialized diagnostic testing related to these Premium Lens Implants, are offered at an additional cost to patients because such services are not deemed medically necessary or covered by Medicare or commercial insurance plans. Many patients find the long-term visual and lifestyle benefits associated these premium lens implants are well worth the additional investment.