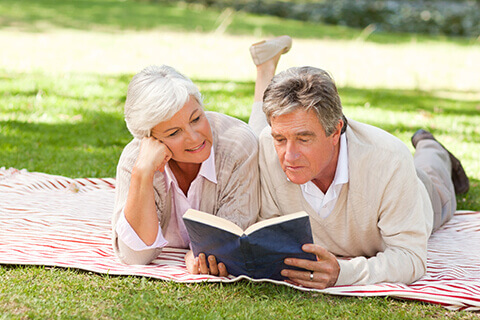 Early cataracts can sometimes be treated with non-surgical methods, including the following:
New corrective – lens prescriptions
Anti-glare sunglasses
Magnifying lenses
Brighter lighting
However, when cataracts begin to interfere with reading ability, work activities, night driving or other daily tasks, cataract surgery is often recommended. If cataracts are in both eyes, surgery is performed on one eye at a time.
Do I Need Cataract Surgery?
Cataracts caused by aging develop gradually, and patients may not notice the early vision changes they cause. It is only when their cataracts start interfering with vision and activities of daily living that patients may become aware of them. Our doctors at Morganton Eye specialize in a thorough and comprehensive ophthalmologic examination to detect cataracts and to rule out other causes for vision disturbance, such as glaucoma or macular degeneration. Patients who become aware of visual difficulties related to cataracts usually experience, especially at night, clouded, blurred or dim vision.
Diagnosis of Cataracts
During your visit with our eye care specialists, you will have a thorough comprehensive eye examination including several tests to help diagnosis cataracts:
Visual acuity tests and refraction
Microscopic slit lamp examination
Detailed retinal examination with pupil dilation
Tonometry to test intraocular pressure (IOP)
These tests, along with information you share with your doctor about how your vision is limiting daily activities help to determine whether you have cataracts or other vision conditions. You and your doctor will discuss the degree of your visual impairment and determine if cataract surgery is the best option for your unique vision needs.
Benefits of Cataract Surgery
State of the art cataract surgery offers many benefits and can greatly enhance your quality of life. Benefits may include:
Improved quality of vision (i.e. sharper images, brighter colors, etc.)
Less difficulty with routine tasks (i.e. driving at night)
Decreased dependence on eyeglasses for many tasks
Greater independence, regardless of age or disability
Greater safety (i.e. walking, driving, etc.)
Research indicates that the improved vision provided by cataract surgery greatly reduces the risk of falls, making exercise, sport and hobbies safer. This, combined with the improved ability to read, recognize faces, and perform everyday activities with greater ease, results in improved physical health, increased sociability and longer life expectancy.
The doctors and staff at Morganton Eye Physicians are exceptionally well trained and experienced in providing this surgical service to our patients.