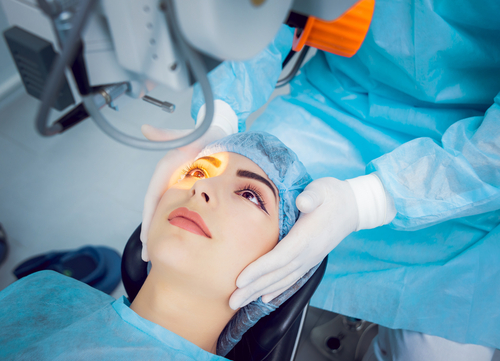 Have you always wanted to see the world through your own eyes and not behind glasses or contacts? Laser Vision Correction can make this possible. 
It can correct common refractive errors like nearsightedness, farsightedness, and astigmatism, enabling you to live your life less dependent on glasses and contact lenses. Keep reading to learn six reasons why you should consider laser vision correction!
1. Saves You Money Over Time
Laser vision correction is an investment. It is a one-time procedure that will leave you with brighter, clearer vision.
You'll get to enjoy fantastic vision without visual aids for decades to come. On the other hand, prescription glasses and contact lenses are long-term expenses.
You must update your glasses or contact lenses every time your prescription changes. Plus, you'll need to regularly get contact refills and buy contact lens solutions or new frames.
These can seem less expensive when you are considering the upfront cost of laser vision correction surgery. However, the cost of visual aids can really add up with time.
Think of the ongoing, lifetime expenses of corrective lenses and compare that to refractive surgery, a simple procedure. Over time, refractive surgery will pay for itself, saving you a lot of money in the long run.
2. Less Dependence on Glasses or Contacts
Are you tired of fumbling for your glasses first thing when you wake up? Have you always wanted to fall asleep without taking out your contacts?
After laser vision correction, everything will be crystal clear, and you will be less dependent on glasses and contacts. You won't have to worry about finding your glasses in the morning or falling asleep in your contacts.
Taking extra time in the morning to put in your contact lenses will also be a thing of the past. Instead, you can use that time to catch up on your favorite book, journal, meditate, or do anything else for yourself.
3. It Can Allow You to Be More Spontaneous and Adventurous
With laser vision correction, you can significantly reduce the hassle of packing your contacts or glasses before heading out for your next adventure. Whether you're going to the beach to soak up some sunshine or camping out in the wild, having laser refractive surgery means greater freedom.
You'll no longer have to stress about your glasses constantly slipping down your nose or taking out your contacts before jumping into the water. Once you get refractive surgery, you can easily step out of your comfort zone and try bungee jumping, surfing, skydiving, snorkeling, skiing, and other adventures without a second thought.
4. Better Vision
Laser vision correction surgery is highly effective and safely improves your vision. For instance, the majority of patients achieve near-perfect vision or better without using contacts or glasses after a refractive procedure like PRK.
Simply put, you can achieve the best vision you've ever had without visual aids after laser vision correction.
5. Take Great Photos
Do your glasses seem to take center stage in your pictures? Or is the reflective glare of your eyeglasses usually caught in photos?
Once you get laser vision correction, you'll no longer have to hide your eyes and other beautiful features behind your frames when taking pictures. Now, you'll look better in all your pictures, from selfies to family photos.
6. More Freedom to Pursue an Active Lifestyle
Unsurprisingly, glasses or contact lenses make running, golfing, and participating in other sports hard. With refractive surgery, you'll experience life in ways that were never possible before.
You'll get to enjoy all the activities you love freely without the risk or hassle of corrective lenses.
Live Life to the Fullest with Refractive Surgery
With laser vision correction at Morganton Eye, you can roll out of bed and leave your house in the morning with less dependence on visual aids.
Do you want to find out if you're a good candidate for refractive surgery? Schedule an appointment at Morganton Eye in Shelby, NC, today to start your journey to clearer, crisper vision!