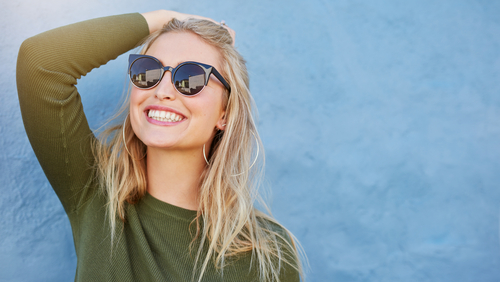 Summer means spending more time outdoors soaking up the sunshine and enjoying the weather. However, it also means inevitably exposing your eyes to the sun's UV rays. 
Not only can the sun damage your skin, but it can also hurt your eyes.
Keep reading to learn more about the damaging effects of the sun and ways to safeguard your eyes this summer!
How the Sun Can Damage Your Eyes
With the hot weather comes an increased risk of sun damage to your eyes. UV rays from the sun can harm various parts of your eyes, including the lens, cornea, and surface tissue.
While the impact may not be noticeable instantly, prolonged exposure to the sun's rays may lead to lasting eye damage that can affect your vision.
Sun-damaged eyes make you more likely to develop photokeratitis, which is an eye sunburn.
Photokeratitis occurs when powerful rays from the sun reflect off surfaces like water or sand. These reflective rays burn your cornea, which can result in temporary vision loss.
Other signs of sunburned eyes include:
Pain
Tearing
Swelling
Headaches
Blurry vision
Seeing halos
Eyelids twitching
Redness
Light sensitivity
Gritty or sandy feeling
Extended sun exposure can also increase your risk of developing the following eye conditions:
Cataracts
Keratitis
Macular degeneration
Growths on the eyes
Certain eye cancers
Tips to Protect Your Eyes from the Summer Sun
You can shield your eyes from the sun this summer and avoid the damaging effects with these four top tips.
1. Invest in Quality Sunglasses
Sunglasses are a great line of defense against the sun's harmful UV rays. To ensure your eyes are adequately protected from the sun, you need to buy the right kind of sunglasses.
The best sunglasses block ninety-nine to one hundred percent UVA and UVB rays. You can maximize your protection by getting sunglasses that are dark and large enough to cover your eyes completely.
Dark and large sunglasses will minimize glare and prevent the sun's rays from penetrating through the sides of your glasses.
2. Don't Forget Your Hat
Hats offer an additional layer of protection. They keep the damaging UV rays away that are coming from overhead.
The Skin Cancer Foundation suggests three-inch brim hats for maximum protection. If possible, buy ultraviolet protection factor (UPF) hats.
UPF hats are made using fabrics that can block out the sun's rays. The higher the UPF ratings, the better the protection.
3. Drink Enough Water
Sun safety goes beyond sunglasses and hats. You should also make sure you're properly hydrated in summer.
It's easy to become dehydrated during the hot season, which can make it difficult to produce tears, leaving your eyes dry and irritated. Therefore, aim to drink the recommended amount of six to eight glasses of water throughout the day to keep dehydration at bay and your eyes comfortable and healthy.
4. Avoid the Sun During Peak Hours
The sun is strongest between ten in the morning and two in the afternoon. So remain indoors to avoid sun exposure during that time of the day.
If you're outdoors at peak hours, use an umbrella or stay under trees or in covered areas to protect your eyes.
5. Don't Let the Sun Harm Your Eyes
In addition to the above tips, the experienced doctors at Morganton Eye strongly recommend frequent eye exams. These precautions and regular eye checkups will ensure you enjoy happy, healthy eyes throughout the summer and every other season.
Is it time for you to have a routine eye exam? Schedule an appointment at Morganton Eye in Shelby, NC, today!