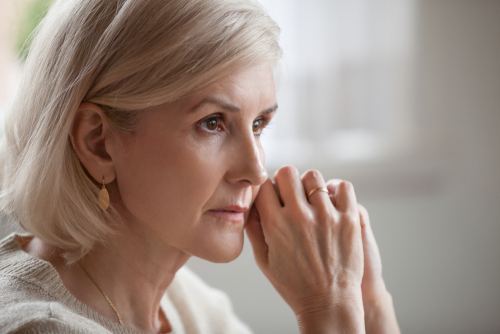 Macular degeneration or age-related macular degeneration (AMD) is a condition that causes damage to the macula. The macula is the small area in the middle of the retina. 
It's responsible for your clear, sharp, straight-ahead vision and allows you to see the world in color. Without treatment, macular degeneration can lead to significant and irreversible vision loss.
Keep reading to learn more about macular degeneration, the symptoms of AMD, and how it's treated!
What is Dry AMD?
Dry macular degeneration is the most common kind of AMD. Dry macular degeneration occurs when parts of your macular become thinner with age and small clumps of protein called drusen grow.
Over time, the drusen builds up, and your macula thins out, causing a gradual decline in your central vision.
Is There Treatment For Dry AMD?
Currently, there's no treatment for dry AMD. If you've been diagnosed with dry AMD, your eye doctor will recommend steps to take to slow its progression and prevent significant vision loss.
These may include:
Taking a combination of nutritional supplements
Exercising regularly
Having frequent eye checkups
Maintaining a healthy weight
Limiting alcohol consumption
Quitting smoke
Reducing your salt intake
Managing stress
Adding Omega-3 fatty acids to your diet
Eating plenty of fresh fruit and dark leafy greens
What is Wet AMD?
Wet AMD is less common than dry AMD. It happens when weak blood vessels grow under your macula and retina.
These abnormal vessels can leak blood and fluid, scarring your macula.
Unlike the dry type, wet AMD comes on suddenly and progresses quickly.
That means vision loss is faster with wet AMD compared to dry AMD.
Is There Treatment For Wet AMD?
The eye doctors at Morganton Eye & Surgery Centers utilize different treatment methods for wet AMD.
Anti-VEGF Injections
Anti-VEGF injections are injected directly into your eye. They stop the growth of weak blood vessels.
These injections help stabilize vision in up to ninety percent of patients. They also restore vision in some patients.
Anti-VEGF injections are typically given regularly to ensure you maintain the benefits of the treatment.
Laser Therapy
Your eye doctor uses high-energy laser light to seal off abnormal, leaky blood vessels below your macula. In that way, there's less fluid buildup, which delays further vision loss.
Laser therapy is often combined with anti-VEF injections.
What Are the Symptoms of Macular Degeneration?
Macular degeneration affects your central vision while your side or peripheral vision remains intact. Some of the symptoms of macular degeneration are:
Blurry Vision
Blurred vision is a common sign of macular degeneration. Objects around you may appear fuzzy, while words can look blurry.
As a result, you may experience difficulty reading, watching TV, and doing close work.
Empty Areas or Dark Spots in Your Vision
Macular degeneration causes dark spots or empty areas at the center of your vision, which may have an adverse effect on your life.
You may find yourself struggling to read the clock, see fine details, drive, and recognize the faces of people around you.
Distorted Vision
Lines may appear distorted or wavy when you have macular degeneration. You might begin to see things like window frames or the side or a doorway as wavy instead of straight.
Trouble Seeing in Low Light
Another tell-tale sign of macular degeneration is difficulty seeing in low light, such as in dimly lit rooms. This can make it hard to navigate your surroundings.
Colors Appearing Dull
Colors may look faded and less vibrant when you have macular degeneration.
Trouble Adjusting to Bright Lights
You may have macular degeneration if your eyes experience discomfort when you go from a dark to a light room. Sudden difficulty adjusting your vision to bright light is an indication that you should have your eyes checked by an ophthalmologist.
Prevent Vision Loss from Macular Degeneration
The only way to ensure macular degeneration doesn't rob you of your sight is to have regular eye exams at Morganton Eye, even if your eyesight seems fine. The earlier macular degeneration is caught and treated, the higher your chances are of maintaining your vision.
Are you due for your comprehensive eye exam? Schedule an appointment at Morganton Eye in Shelby, NC, today to protect your sight.