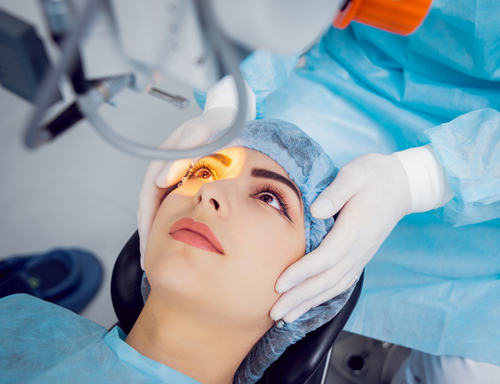 Do you want more freedom to focus on the things you enjoy? Choosing to have PRK will add precious time back into your everyday routine and allow you to be more spontaneous. 
No more worrying about cleaning and disinfecting your contact lenses daily or forgetting to bring your glasses on your next vacation. PRK is an excellent option for permanent vision correction and may help you eliminate the need for glasses or contact lenses.
Keep reading to learn more about PRK and how it's different from other refractive procedures!
What is PRK?
Photorefractive keratectomy, or PRK, is a type of laser vision correction procedure that has been around longer than LASIK. Like LASIK, it corrects farsightedness, nearsightedness, and astigmatism.
PRK has very high success rates. After the procedure, many patients are able to greatly reduce their dependency on visual aids.
What to Expect During PRK
Your PRK surgeon will start by applying numbing drops and fitting a special device to keep your eye still and prevent blinking. From there, they will remove the thin outer layer of your cornea or epithelium.
Removing the epithelium enables your surgeon to access the inner part of the cornea to reshape it using an excimer laser. Reshaping this part of your cornea corrects your refractive error and improves vision.
Finally, a soft contact lens bandage will be placed over your cornea to aid in your healing. The bandage protects your cornea as the epithelium regenerates, which typically takes three to five days.
The entire treatment is completed in approximately ten to fifteen minutes.
What is the Difference Between LASIK and PRK?
The main difference between LASIK and PRK happens during the first step of laser vision correction. During PRK, the epithelium is completely removed, allowing your surgeon to reshape the underlying corneal tissue.
The epithelium is left to regrow on its own after surgery. Unlike PRK, the surgeon creates a tiny flap or hinge in your cornea during LASIK.
The flap is then folded back so the LASIK surgeon can reshape the stroma. Once done, the surgeon gently returns the corneal flap to its usual position.
The flap self-adheres to the rest of the cornea, and this means that no stitches are needed.
What Are the Benefits of PRK?
There are many benefits to choosing PRK. The top benefits of PRK include:
Immediate and Lasting Results
Most patients notice an improvement in their vision immediately after PRK. It may take some time before you experience the full benefits of your procedure.
Eventually, you'll likely be able to see clearly without glasses or contact lenses. Once your vision has stabilized, you can expect your PRK results to be long-lasting.
Ideal for People with Thin Corneas
Some people have especially thin corneas. This can be due to different reasons like genetics or a previous vision correction surgery.
PRK is an excellent alternative for patients with thin corneas who might not be good candidates for LASIK. LASIK requires more corneal tissue in order to safely create a flap and effectively correct your vision.
Because there is no need for the creation of a flap during PRK, you may be a suitable candidate for the procedure even if you have thin corneas.
Suitable for Athletes or Very Active People
PRK is often the preferred choice for people with physically demanding professions like the military or contact sports athletes. That's because the corneal flap created in LASIK can potentially become dislodged or detached on contact even after it has healed.
Enjoy Clear Vision with PRK
With PRK, you can significantly improve your visual freedom. The expert doctors at Morganton Eye have helped many patients see clearly with PRK and can help you achieve visual freedom, too.
Want to discover if you're a good candidate for PRK? Schedule your appointment at Morganton Eye in Marion, NC, today to determine if PRK is right for you!