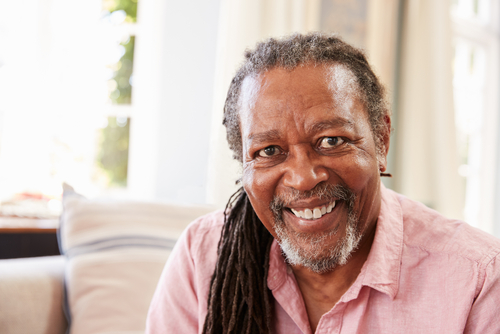 Do you or someone you love have cataracts? One of the most important decisions made before having Cataract Surgery is which IntraOcular Lens(IOL) will be used during surgery to replace the clouded Cataract lens in the eye.
An IOL is an artificial lens that replaces the clouded natural lens during Cataract surgery allowing a return to clearer vision. There are many kinds of IOLs available, including Premium IOLs (i.e. Multifocal and Toric IOLs).
Keep reading to learn more about the advantages of choosing a Premium IOL!
Traditional IOLs vs Premium IOLs
For years, the only IOL available with Cataract Surgery was a Traditional Monofocal IOL.  Traditional IOLs provide clear distance vision alone. With these IOLs, you will probably need to wear glasses to see things up close (i.e. Reading) or at intermediate ranges (i.e. Computer).
These IOLs also do not address blurry or distorted vision caused by Astigmatism (i.e. caused by an irregularly shaped cornea on the surface of the eye) which can negatively impact vision at any distance.  And if you develop Presbyopia (i.e. the inability of the eye to adjust to provide clear near vision), reduced vision will continue to worsen over time.
Thankfully, advanced Premium IOLs are now available and are well suited to address a variety of vision needs including Astigmatism and Presbyopia. Premium IOLs can provide improved vision at a variety of distances as well as address Astigmatism and Presbyopia.  A Premium IOL can also help significantly reduce or even eliminate the need for prescription glasses.
Types of Premium IOLs available at Morganton Eye Physicians include:
Multifocal IOLs
Multifocal IOLs offer a wider range of improved vision after cataract surgery than Traditional Monofocol IOLs.  The advanced optic design of these lenses works within the eye to adjust or refract light and images entering the eye to offer a wider range of clear vision.  Advantages of the Multifocal IOL include:
Multifocal lenses can enable you to have sharper vision at a variety of ranges: near, far, and intermediate.
If you're looking to reduce your dependence on glasses while continuing to enjoy excellent vision, Multifocal IOLs can help you achieve this goal.
For people with age-related nearsightedness, also known as Presbyopia, a Multifocal IOL can mitigate the effects of this condition (i.e. reduce dependence on reading glasses).
Toric IOLs
For patients with Cataracts (i.e. clouding of the eye's natural lens) and Astigmatism, a Toric IOL offers a solution to both conditions. A Cataract reduces vision by limiting the amount of light that enters the eye causing dull or blurred vision.  The negative vision caused by Cataracts is further exaggerated by additional distortion caused by an irregularly shaped cornea (i.e. Astigmatism).  A Toric IOL helps improve distance vision by eliminating the dull vision caused by a Cataract and addressing the distorted vision caused by Astigmatism.  You can enjoy greatly improved distance vision after surgery with a Toric IOL – although you may still need glasses to see up close or at intermediate distances.
Tecnis Symfony Extended Range
The Tecnis Symfony offers seamless, high-quality vision at all distances while at the same time addressing reduced vision from Presbyopia (i.e. trouble with near or reading vision).  If you choose the Toric version of this Premium IOL, it can also help improve distorted vision caused by Astigmatism.  Other benefits of the Tecnis Symfony Extended Range IOL are:
You'll reduce dependence on glasses to see objects that are far away while having the ability to see well at intermediate distances.
Reduced risk of halos or glares, which can occur with some other IOLs.
Restore Clear Vision with a Premium IOL
The trusted, experienced eye doctors at Morganton Eye Physicians are here to help you choose the ideal Premium IOLs for your vision.
Want to find out which IOL will be right for you? Schedule a cataract consultation at Morganton Eye Physicians today!