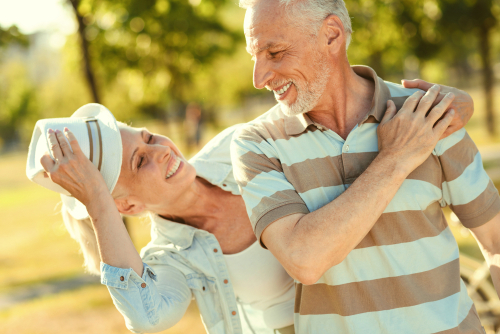 Do you have astigmatism and cataracts? You're not alone.
Many people with cataracts also have astigmatism. If you want to correct your astigmatism while having your cataracts removed, you may want to consider an astigmatism correcting intraocular lens ("Toric IOL").
For someone with astigmatism, a Toric IOL can provide sharper vision when combined with cataract surgery.  These astigmatism-correcting Toric IOLs are uniquely designed to improve how light enters the eye and is focused on providing significantly improved vision.
However, it's important to note that a Toric IOL may not correct all astigmatism, especially if you have a very strong prescription. If this is the case, you may need to wear glasses or contacts to correct any astigmatism remaining after surgery.
Yet, for many, Toric IOLs enhance vision after cataract surgery to a point where they no longer need to wear glasses for most activities. Keep reading to learn more about astigmatism and cataract surgery!
What Is Astigmatism?
Astigmatism is a refractive error that causes images to appear blurry or distorted due to an irregularly shaped cornea. When the cornea is an irregular shape, it scatters the light or images entering your eye instead of sharply focusing them on the retina at the back of the eye which processing the light and images that you see. The combination of a cataract, a clouding of the eye's normally clear lens, and additional blurriness caused by astigmatism can greatly reduce vision for someone with both a cataract and astigmatism.
Benefits of Toric IOLs
For patients with astigmatism, there are several reasons to consider a Toric IOL, including:
Toric IOL implants do not increase the risks of cataract surgery and are generally safe
Patients can usually see better after cataract surgery with a Toric IOL and reduce their dependence on glasses
Choosing a Toric IOL doesn't require cataract surgery to be performed differently
Toric IOLs and Insurance
Health insurance doesn't cover the additional costs for implanting a Toric IOL. Unfortunately, that means patients have to pay the expense out-of-pocket.
However, the added benefits of these intraocular lenses are significant in the long run, making them worth the investment.  Toric IOLs may also significantly reduce lifetime expenses for prescription eyewear and/or contact lenses due to improved vision following cataract surgery.
Have Cataracts and Astigmatism Corrected at the Same Time
Toric intraocular lenses can address your astigmatism as part of cataract surgery.  To learn more, schedule a cataract consultation at Morganton Eye Physicians!