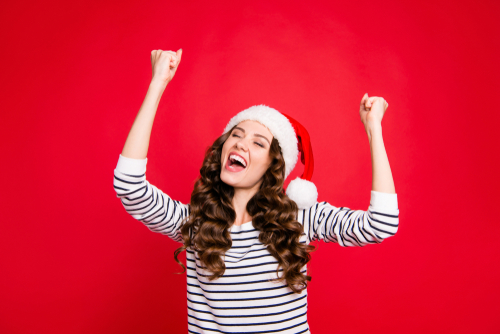 With the holidays right around the corner, this is the ideal time to get refractive surgery. Being able to see clearly without glasses or contacts will mean greater freedom, more fun, and getting the most out of this season.
PRK, or photorefractive keratectomy, is an excellent method of laser vision correction that can correct your natural refractive error, provide you with visual freedom and reduce your dependency on visual aids. Scheduling your PRK procedure this holiday can bring a whole new experience for you.
Keep reading to learn how you can celebrate the holidays with clearer vision!
Clear Vision for Celebrating Holiday Parties
There are many festive celebrations during the holiday season, from get-togethers with family and friends to holiday parties at work. It's no surprise that it's many people's favorite time of the year.
This year, you can ensure you see well and soak in the holiday cheer around you with excellent vision. PRK can make that a reality.
After your laser eye surgery, you'll experience all the holiday festivities with reduced dependency on glasses or contacts.
No More Glare from Glasses in Holiday Pictures
Between family dinners and holiday parties, there are lots of pictures. However, it can be challenging to get great photos when your glasses are constantly causing glare.
Glasses create a challenge because they reflect flashes and lights. When you can't really see the photographer well, chances are you'll appear awkward in front of the camera.
You'll finally feel more comfortable and look your absolute best when you have laser eye surgery. PRK will boost your confidence and give you a photo-ready face during this magical time of the year.
Say Goodbye to Lens Fog When Cooking
Foggy lenses can be annoying and frustrating. If you wear prescription glasses, you know how tough it can be when whipping up meals.
The rush of steam from the cooking food fogs up your glasses and causes you to blind yourself unintentionally. This is a major inconvenience and presents a hazard in the kitchen too.
Luckily, lens fog will be a thing of the past after PRK. You'll enjoy cooking and ensure your safety while at it.
Enjoy Winter Walks Without Glasses or Contacts
There's a stark temperature difference between the air outside and your face during the chilly holiday weather. Thus, you can be sure that your glasses will be filled with moisture the minute you're outdoors.
This forces you to frequently spend time wiping away the mist to see through so you can continue with your walk. If you wear contact lenses, your eyes can be easily irritated by the wind.
PRK will make your winter walks hassle-free. You won't have to worry about glasses fogging up or eye irritation. What's more, this could be the first time you see breathtaking views in high definition without prescription eyewear.
Such small joys in life can really add up and elevate your mood this festive season.
See Better than Ever This and Every Holiday
PRK surgery at Morganton Eye is a safe and highly effective procedure that requires very little downtime. So you can have your surgery in only one day, recover in a few, and enjoy the rest of your holiday with crisper, clearer vision.
Are you interested in determining if you may be a good candidate for PRK? Schedule a consultation at Morganton Eye in Shelby, NC, today to find out if it's right for you!